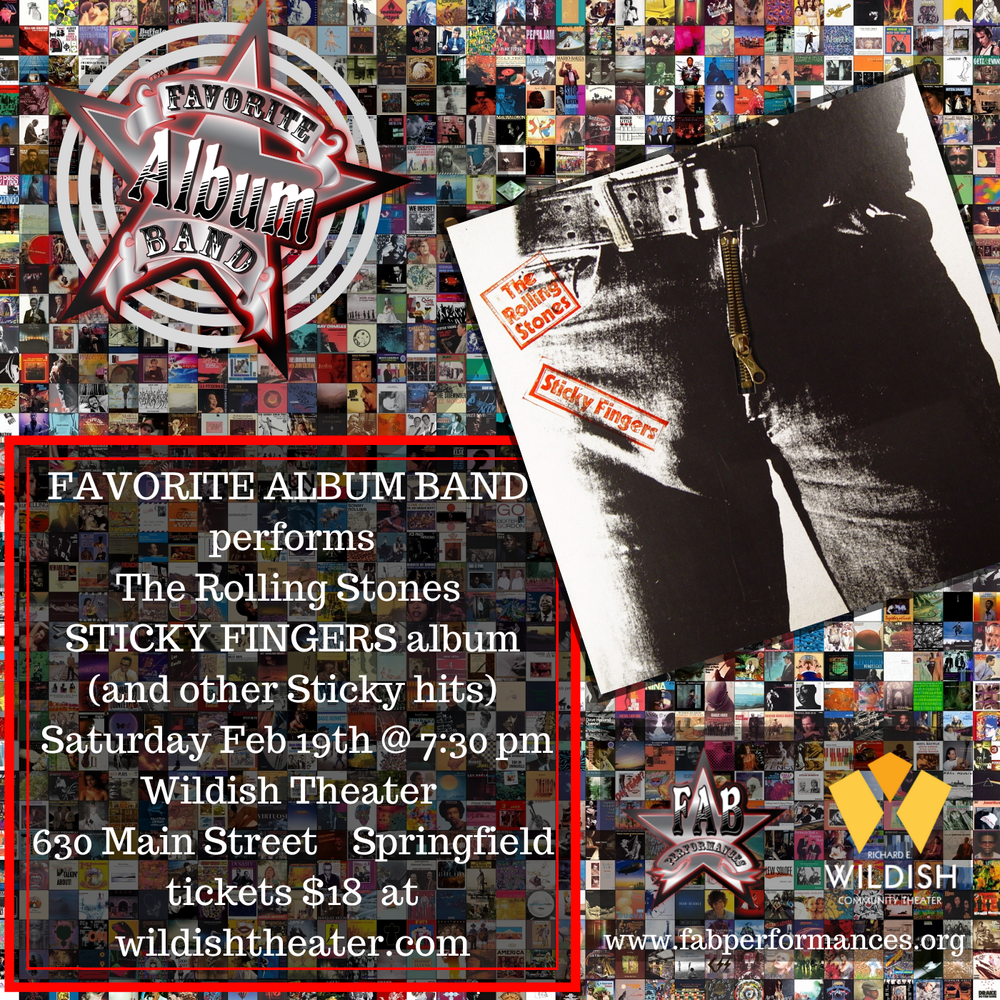 STICKY FINGERS Feb 19th 2022
Missed the Concert?
Here's vid of the show just below!
The Band 
Spearheaded by  Tony Rust (taking the lead mic at many concerts) and Jim Reinking (keeping us with the groove on drums,) Favorite Album Band has pulled together some impressive and timeless classic albums in the first several years of our  journey. Together we build the arrangements and gather the band to recreate the distinct styling each different album needs. 
​The core  band is composed of a variety of Eugene, Oregon musicians, often including Stephen Arriola on guitars, Gus Russell and Keri Davis on Keys, Josh Carlton on Bass, and Melissa Miller on lead or back up vocals. 
Other players with the band include Peter Giri, Michael Anderson, Tracy Nygard, Neil  Thurston, Ruxton Schuh, Paul Wurster, Anthony Proveaux, Ian Lindsey, Gabe Dickenson, Ward Fairbairn, Brandon Foster and many more.
The Music 
So far we've  covered 
The Doors, The Rolling Stones, Prince, Eagles, and Heart
Coming up soon:  
More Rolling Stones, The Beatles, Bruce Springsteen, Jethro Tull, Fleetwood Mac and more!
THE CONCERTS
Along with recreating Favorite Albums, the FAB BAND creates amazing and wild concert evenings of all your greatest hits for charity events.
We got out the tie die and a solid 60's classic set for the Wildish Theatre's benefit ROCK THE WILDISH
and we shined up our attitudes for a 80's evening for Cottage Theatre's BURNING DOWN THE HOUSE.
Interested in booking the band for a concert event? 
Want to have them recreate your favorite album before your very eyes and ears? 
Favorite Album Band is available for local concert events and fundraisers as well as getting in the van and coming to your town!